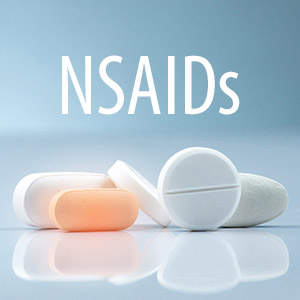 There's a good chance you have an over-the-counter pain reliever in your medicine cabinet right now. They're handy for safely and effectively coping with mild to moderate pain, swelling or fever. They could also prove an invaluable resource after your upcoming dental work—your dentist may recommend one of these common drugs to help you manage your recovery period.
These particular drugs are non-steroidal anti-inflammatory drugs or NSAIDs. The most common sold under various brand names are aspirin, ibuprofen and naproxen. Unlike narcotics (opioids), which depress the central nervous system to control pain, NSAIDs block substances in the body called prostaglandins, which are released when tissues become inflamed or damaged. This in turn reduces pain, swelling or fever.
There's another significant difference between NSAIDs and narcotics—NSAIDs aren't addictive like opioids. Because they're also milder, NSAIDs don't require a prescription except for stronger formulations. With the trend to limit the use of narcotics in both dentistry and medicine, dentists are turning to NSAIDs as their primary means for managing dental pain.
There are, of course, some situations where narcotics are the preferred course. But dentists are finding NSAIDs are just as effective for managing discomfort following most dental procedures. They've also found that combined doses of ibuprofen and acetaminophen greatly amplifies the pain relieving effect.
Although NSAIDs are much safer than narcotics, they do have potential side effects. For one, they can reduce the blood's ability to coagulate, especially when taken consistently over several weeks. This could make it difficult to stop bleeding due to injury or illness.
NSAIDs can also irritate the stomach lining in some people over an extended period of use, leading to ulcers and other digestive issues. Prolonged use has also been linked to major problems like kidney damage, miscarriage or heart attacks.
But NSAIDs are still a safe alternative to narcotics: Their side effect risks are quite low when taken in proper dosages—between 400 and 600 mg for adults—within a limited amount of time like a few days. Their temporary use can help you cope with discomfort after a dental procedure and get you well on the road to full healing.
If you would like more information on managing discomfort after dental work, please contact us or schedule an appointment for a consultation. You can also learn more about this topic by reading the Dear Doctor magazine article "Treating Pain With Ibuprofen."