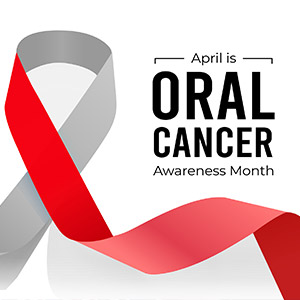 During the time it might take you to eat a meal, meet someone for coffee or watch your favorite television show, someone in the U.S. will die from oral cancer. Nearly 10,000 people in the U.S. succumb annually to the disease—about one every hour, every day of the year.
While other cancers may have higher occurrence rates, few have oral cancer's dismal 5-year survival rate of 57%. To put it into perspective, only a bit more than half of the 54,000 Americans diagnosed this year will still be alive in five years. That's why we're recognizing April as Oral Cancer Awareness Month—to put a spotlight on this dangerous and deadly disease.
So, why is the disease's fatality rate so high? For one thing, it's been perennially difficult to diagnose oral cancer early, which could increase a patient's survival odds. This is because the lesions produced by various forms of oral cancer can mimic other types of benign sores. It's easy to dismiss what might be pre-cancerous or cancerous tissue as a simple mouth sore.
A biopsy, removing some of the questionable tissue and viewing it under a microscope, is the best way to confirm whether the area is cancerous. But although biopsies are the diagnostic "gold standard" for oral cancer, they're costly and not particularly pleasant for patients to undergo. Usually reserved for the most suspicious cases, biopsies would increase exponentially if we scrutinized more general mouth sores for cancer.
But not all is gloom and doom regarding over oral cancer: Recent years' survival statistics have shown some modest improvement. That's due not only to greater awareness and efforts to improve early detection, but better success in preventing oral cancer development in the first place.
Dedicated oral hygiene, a proper diet and a healthy lifestyle all help lower your risk of oral cancer. Concerning the latter, you can drastically reduce your risk by avoiding tobacco and lowering your alcohol consumption.
Although taking care of both your oral and general health are your best means for preventing oral cancer, it won't eliminate your risk entirely. You may need to add oral cancer screenings to your regular dental visits as you get older or if you have a family history of the disease.
Pay attention as well to any suspicious mouth sores, especially any that don't seem to clear up within a few weeks—sufficient reason to have your dentist examine it. Taking this proactive approach to your oral health can help you get out ahead of this dangerous disease—or avoid it altogether.
If you would like more information about the oral cancer, please contact us or schedule a consultation. To learn more, read the Dear Doctor magazine article "Diet and Prevention of Oral Cancer."